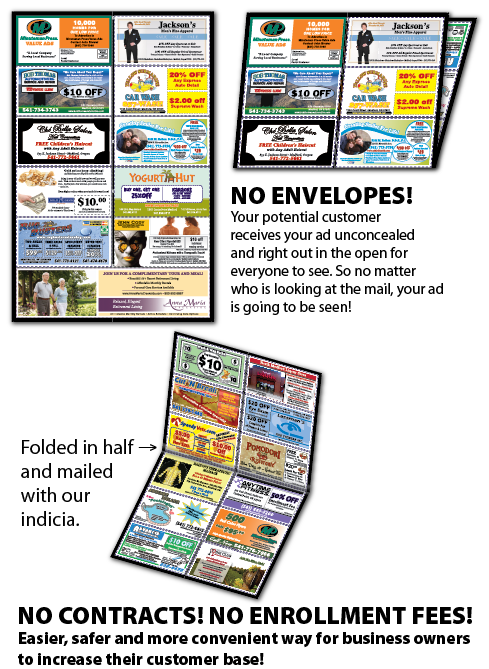 Get your spot on our monthly XPress Ads coupon mailer today! Helping local businesses grow here in Southern Oregon!
Click HERE to download the current coupon mailer. Our XPress Ads reach 10,000 homes for just 3 CENTS per coupon! Minuteman Press XPress Ads go to homes all over local area including East Medford, South Medford, and Jacksonville. XPress Ads are your efficient coupon printing and quick coupon mailing, we do all the work for you. Customers and our local residents love how attractive XPress Ads are and we are sure you'll be happy using them too. Benefit from having more customers and new customers giving you business! Call now to reserve your space in our XPress Ads coupon mailing today! 541.776.7966
High quality printing, eye-catching graphics and delivery to 10,000 homes, this classy coupon flyer attracts attention with great deals and a shop local message ~ A message that resonates in Medford. Join Minuteman Press in this unique and affordable marketing opportunity and reach thousands of new customers.
One XPress Ads mailing the cost is $295 for 10,000 homes.
Price includes:
• Design
• Printing
• Mailing
Deadline to sign up is 15th of each month.
Art approval by 20th of each month.
Mailing will go out each month.
Size of placed artwork for your ad is 5.0417 wide by 2.5 tall. (Contact us for double ad size)
Submit your own logo and any photo you wish.
Research supports response rates!
Unsolicited mailings may generate between .5% and 1.5%.
A 1% response rate = 100 new clients
Working together, we can bring your message to 10,000 local homes & business for only $295!
Reserve a spot in our XPress Ads for multiple mailings and SAVE!
We all know that our economic recovery is linked to cultivating a vibrant local business environment. Working together we can bring our message to 10,000 new customers! Our collective success will keep Medford the vibrant city and dynamic place that we all love to call home.
Call us to reserve your space today!
541.776.7966 • 722 Rossanley Drive • Medford